Goddess of Spring 2017- Resort Collection
New Delhi, 23rd May 2017
An evening was hosted by Designer Duo Anjalee & Arjun Kapoor to celebrate the showcase of the new collection Goddess of Spring 2017.The evening took place at 1 AQ, Anjalee and Arjun Kapoor store in Mehrauli. The esteemed guest list comprised of personalities like Entrepreneur, Tanisha Maohan, Bela Madan, Neena verma, Beauty Expert Shahnaz Husain , Author Nelofar Currimbhoy, Cheena Wig, Neeli Jain, Sonal Jindal to name a few  
Come spring, and we are all ready to head out for a vacation that we've been waiting for. Keeping in mind the comfortable ensemble during vacations, coupled with the spring vibes, the designer duo Anjalee and Arjun Kapoor have launched their 'Goddess of Spring 2017 Collection'.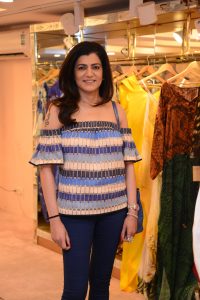 The holiday- centric collection has made a swift change using silk kaftans and short tunics with texture prints with superior hand feel. Moving away from the traditional style, this exclusive line involves kaftans that have been made using drape technique with interesting silhouettes, giving it a flowy look. The digital prints and color fusion curate a breezy, yet elegant look. If you are looking for something with a slight dash of bling, then the collection also has some pieces with brooch elements. The fusion of animal as well as floral prints results in the colors on the pieces coming out appealing and vibrant.
On asking Anjalee Kapoor about the idea behind the creation, she said, " I love working with the concept of digital printing and putting the svelte together, so there's a lot of love and fashion which are involved in the collection, and I enjoy doing it every year."
Earlier the collection would be available only when it was launched. However, from this year onwards, they have also launched their collection online, making it available all-round the year.
So before you ladies gear up and head out for that vacay, find yourself the perfect resort wear that would crank-up your glam quotient!