EDUCATION 4.0 BREAKS NEW GROUND IN INDIA WITH LAUNCH OF AURONYA COLLEGE
15th May, Saturday, 2017, Delhi:  'Education 4.0' – a revolutionary focus in education that will be defined in the coming decades through the conduit of technology, as it infuses itself into every sphere of humanity; be it biological, social, environmental or economic is being pioneered in India by Auronya College at Pondicherry.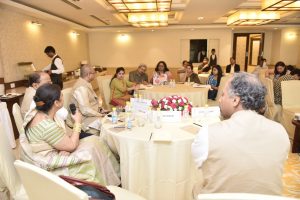 Mr.Abhaya Kumar Jain – Founding Executive Chairman, Auronya and Dr.Indira J Parikh – Founding Chairperson, Auronya; the renowned education experts in the country are the driving thought leaders behind Auronya College.
Auronya College aims to answer the unknown future by proving an all-encompassing curriculum of programs to impart Education 4.0.Addressing the burning question of 'What it will be' in the 21st Century; as the world is at the dawn of new industrial revolution, Auronya College has conceptualized and will be realizing Education 4.0, for the very first time in India.
The unique disruptive system of Education 4.0 not only focuses on 'what is taught' but it takes a more nuanced approach to 'the way it is taught'; an education model which is aligned with future trends, so as to develop and enhance individualized education that would go on to  define the way that youngsters of tomorrow work and live.
Supported with a the heady mix of  high-end technology directed towards a 'future centric' knowledge, the full-bodied curriculum aims to embed timeless values and culture and as it throws light on our connections to nature, thus paving a strong path to lead humanity.
Designed by architect Padmashri B V Doshi, the campus will be state of the art and have amenities like Virtual & Augmented Reality studios, 3D printing facility, think spaces, amphitheater, smart classroom, sports facilities, gymnasium, swimming pool etc; the sprawling campus of Auronya will have six departments   – School of design & sciences; School of Humanity & art; School of Business & Economics; School of Social Science; School of Research & Intelligence and School of Media and communication. The event also marked the launch of Antariksh– one year post graduate diploma program in New Age Management & Leadership (PGDNAML), beginning  in October 2017.
Antariksh is designed to prepare Future Leaders, who are ready to lead in the 4th Industrial revolution; it will focus on complete transformation and not singular improvement in the skills and abilities of an individual in interconnected ecosystems.
Eligibility for Antariksh:
•       Candidates who have a minimum of 2-5 years of full time work experience at any level in external or family business can apply for the program
•       Candidates without any work experience can also apply and will have to go through a specially designed screening process for fresh graduates
•       The introductory fee for the year long program is Rs 15, 00,000,  inclusive of resort style accommodation & food, global immersion, national immersion, boot camp, personal growth lab and spiritual immersion
•       The management will provide scholarships for students on a need cum merit basis