Granola Bar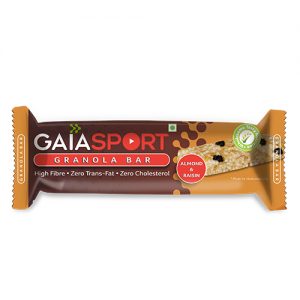 Gaia Granola Bar is a low-fat energy bar made of muesli, almonds and flavoured with chocolate. A healthier alternative to junk food and loaded with multi cereals, multi nutrients and rich in iron & vitamin C, Gaia Granola Bar is a tasty any time snack. It is better than other protein or energy bars available in the market as it is made of muesli, which in itself is wholesome and nutritious. So go ahead and enjoy a power pack of healthful energy.
Weight: 30'g
Price: Rs. 30/-
Multifloral Honey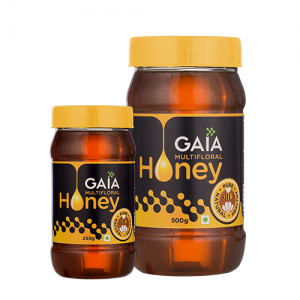 Honey is a natural remedy for many ailments and also helps in the regulation of fats. Honey is truly a remarkable substance, made even more extraordinary by the process with which it is made. This blend of sugar, trace enzymes, minerals, vitamins, and amino acids is quite unlike any other sweetener on the planet. Honey is a great substitute for sugar which helps in managing calorie better while also adding many healthy nutrients in place of empty calories.
Available in following sizes:
250gm 500gm
Weight: 250gm
Price: Rs. 125/-
Gaia Lite – Sugar Free Cookies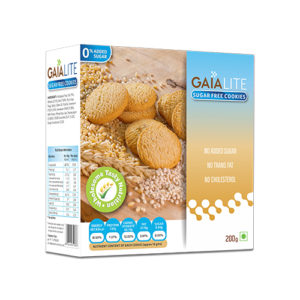 Gaia lite- Sugar free bites is a perfect guilt free snacking indulgence prepared with nutritious grains like ragi, bajra, soya and oats. With 'No Added Sugar' and zero cholesterol, they are ideal for the sugar/calorie conscious or anyone looking for healthier choices. Even children can binge on these healthy bites, as it doesn't contain sucralose.
Weight: 200g
Price: Rs. 95/-
—————————— —————————— —————————-
About GAIA
GAIA was founded on the belief that nature, through its diversity of flora and fauna, offers us the best solutions for all our health and grooming needs. Which is why it harnesses nature's everyday miracles, tests them scientifically, and offers these solutions to help people take better care of their own selves.
The health and wellness Industry in India is estimated at Rs 3600 crores and has a huge potential for the future. It is only in recent years that the majority of people have realized the importance of wellness in our lives. In today's world where ailments like diabetes are affecting even little children, it is high time all of us woke up and realized the significance of living a better, healthier life.
Nowadays, a normal urban person's daily schedule includes working for 12 hours with little or no time left for self, no one has the time to make the effort of eating the recommended five servings of fruit a day, and most people lead a sedentary lifestyle. No wonder ailments are on the rise. GAIA was conceived to provide a healthier living experience to the world to coincide with the emerging health consciousness in India. Since its inception, GAIA has been able to successfully formulate its products to cater to the growing health & wellness needs of the people.
GAIA as a brand brings people the benefits of nature's everyday miracles through its range of products. With the current product portfolio of nutritional supplements like Spirulina, Neem, Aloe Vera, Glucosamine,Granola bars, Flax and Amla along with natural substitutes such as Green Tea, Green Tea + Lemon & Green Tea + Tulsi, Stevia tablets & sachets as well as Muesli in various flavours and oatmeal, multigrain cookies .GAIA has been able to make its presence felt in a very short period of time.
As time progresses GAIA would keep moving forward in its endeavour to provide the most effective natural solutions to one and all, whilst keeping in tandem with the trends of the future.