You bought that most expensive Michael Kors or Bottega Veneta bag just few months back and one nice evening your favorite melting chocolate kept in that bag ruined the beauty of your bag and damaged its looks? Now get the same look back or add even more dazzle to your shoes, bags & other leather accessories with Pressto ZAPATO.
Pressto –Spain originated la tintorería & lavandería servicios (Dry cleaning & laundry) has introduced the unique concept store Pressto ZAPATO – the first ever shoe and bag care store in India with two exclsuive stores in Mumbai. Pressto ZAPATO services includes sole & heel replacement, damage repair, color makeover and complete restoration.
Pressto, present across 24 countries across the globe, successfully marked its entry in India in 2008 and now offering complete range of wardrobe care services across its 40+ stores in Mumbai and NCR.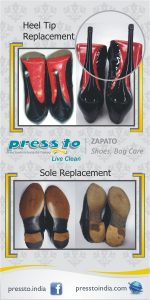 So be the glam diva and make your own fashion statement with Pressto ZAPATO's customized offerings. Do let me know if we could explore review/feature talking about the need of maintenance & upkeep of leather and other accessories to safeguard them from daily wear & tear.