April, 2017, New Delhi: People hesitate to buy houses and apartments on the top floor in places like New Delhi. This is one of the biggest problems faced by builders and property sellers when it comes to shelving out the top floor.
Life's always been more alluring from cloud number nine. When was the last time you had the breath-taking view of the city from the top floor of your apartment? Or are you really worried about the heat emanating from your surroundings during the summers?
However these days' uPVC Windows and Doors have turned the tables with respect to top floor apartments in Delhi. Customers are now aware and when they go out to check houses that are on the top floor, they make sure that uPVC Windows and Doors are fitted so that they can buy it without worrying about the onslaught of summer heat.
Window Magic, in association with one of the leading Glass manufacturers in the world, brings to you high-quality Solar Control Glass for windows, canopies and skylights. This specially-made glass helps to control heat penetration during the summers and allows optimum daylight to enter the interiors besides also saving on electricity cost.
About Window Magic
Window Magic, with years of industry experience is amongst the first companies who introduced the material 'uPVC' in India. Window Magic along with the Profine Group of Germany as their technology partners, offers everlasting impressions with respect to uPVC Window and Door solutions. The company offers a wide range of uPVC Windows and Doors in various colors with various glass solutions and Insect Screens. At Window Magic, stringent quality checks coupled with state-of-the-art technology are used for manufacturing and creating visually appealing and durable products.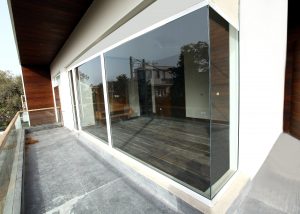 Why Window Magic Windows?
Window Magic's uPVC Windows and Doors are completely recyclable. Each window/door contains Calcium zinc stabilizers instead of lead stabilizers, thereby keeping harmful toxic fumes during production at bay. Bearing in mind all the eco-friendly attributes of uPVC, Window Magic carries the tagline of 'Green Line'.
uPVC is a material that does not rot and is resistant to corrosion and hence secures your family from harmful effects of these unavoidable elements. Wood can swell and rot and similarly, aluminium and steel can corrode and have galvanic reaction to the fasteners. Repair and maintenance of wooden and similar mainstays also comes with a lot of adverse side effects. uPVC Windows and Doors are built to resist the strongest natural element such as air, water, storm, strong sunlight, etc.