Why Hampta Pass? Well, you've trekked around a little now, and done two or three of them across the Himalayas. And maybe now you're wondering, "I want to try something more challenging".
Well, we have just the right trek for you! Hampta Pass (4400 m) beckons, and here's why you should go for it.
A campsite on the Hampta Pass trek. Picture courtesy: www.renokadventures.com
Reason 1: Easy-Medium Trek
Hampta Pass is not too difficult. On each day, there's not more than 6-7 kilometres of trekking. It's not too tough, either! Barring a few steep sections, the ascents and descents are mostly gradual.
Reason 2: Normal Effort, Extraordinary Reward
Nowhere in such a short distance do you have the chance to ascend to 15,000 feet in such a relatively short span of distance. You get to experience the thrill of high altitude, by making an adequate amount of effort!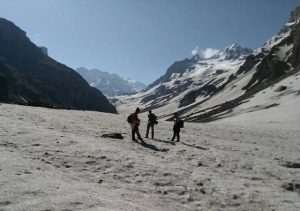 Trekkers enroute to the Hampta Pass Picture courtesy: www.renokadventures.com
Reason 3: It's Beautiful
Right from the start of the trek from Jobri, the alpine meadows of the Himalayas quench your wanderlust. If you go early in the season(June), you'll get snow starting from Chikka. All around, the snow-capped peaks beckon you and motivate you to go further. Deo Tibba(6001 m) and Indrasan(6221 m) tower imposingly over the horizon.
The dominating West Face of Deo Tibba(6001 m) Picture courtesy: www.renokadventures.com
Reason 4: It's Necessary
What do I mean, necessary? Just like the rungs on a ladder, you have to go step by step. Now that you've done some easy treks like Kheerganga, it's time to take the next step on the ladder. Only after doing a trek like Hampta should one proceed to a tougher, higher trek like say, Stok Kangri.