Living by the vision of a curriculum to develop scientific temperament in learners Billabong High International School, Noida celebrated its Annual extravaganza of Science Exhibition and Club Culmination on the theme 'Nurturing Future Citizens By Enhancing Sustainable Development' from 8th February to 10th February 2018
The event was an exciting explorative adventure full of surprises. Each grade & club had a theme to present with experiments like Kaleidoscope of artistry, Knowledge engineering, Green Footprints Window to a viable future, Survival of the fittest, The Cosmos, Flavours of infinity and more.
While all the learners put up wonderful presentations of their learning and skills, the exhibits on Bio-filter, Eco-friendly fridge, the games on various programming languages and the robotic creations of the learners were show stoppers.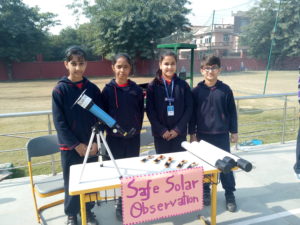 Kangaroo Kids learners of pre-primary also showcased their hands-on knowledge of the environment, saving endangered species, save water and a Nukkad Natak on Swacch Bharat Abhiyan with enthusiasm and won hearts with their vivacious confidence. The Nukkad Natak presented by the children stole the show.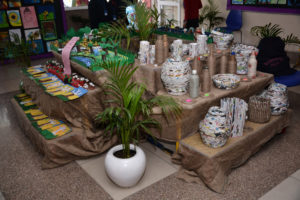 The objective of various displayed exhibits was to identify the means for sustainable development and to spread the awareness among public for the same. The event was a window to imprint the theory learning into the young minds with engaging experiences and application of higher order thinking skills.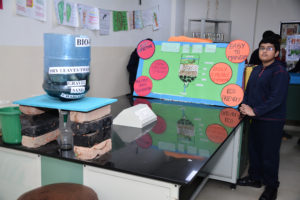 The exhibition aimed to inspire students to think, connect and learn using knowledge, tools, technology & curricula of literacy to develop higher order thinking skills. Every learner tried his/her level best to imbibe every aspect which encompassed all the measures to make a better future for the upcoming generation.