New Delhi, December 23, 2017: As a school that prides itself on a diverse international curriculum, each festival and special occasion is celebrated with joy. It gives the children a chance to understand and appreciate each other's cultures and traditions; making this not just a school but a true global village.
As part of the school's international curriculum, students celebrate all major festivals from around the world with equal enthusiasm. It is part of imbibing word cultures, preaching tolerance, and cultivating a new generation of global citizens.
Christmas is an exciting time for children, eagerly awaited all year long. Early Learning Village (ELV) and Wonderland Play School celebrated Christmas with events that showcased the global traditions of Christmas.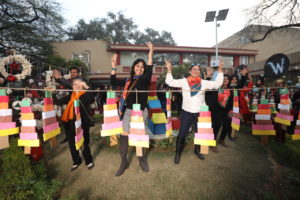 "Bake the World a Better Place" held a week before was a precursor to the big day. The children and their parents, under the guidance of Shelly Sahay (expert baker and owner of Elma's bakery), mixed a batch of Christmas cake with ingredients they brought from home. On the day of the carnival, cakes made from the same batter was distributed. Apart from giving them an opportunity to get their hands dirty, this is also the school's way of teaching them the real meaning of celebration, of instilling the spirit of togetherness that makes holidays such a special time. The simple act of making something together and then sharing it with their parents and friends goes a long way in teaching children the community values and the joy of sharing.
Mr. Pradeep Jolly, the Founder & CEO of Wonderland & Early Learning Village School says "The students, parents, and teachers at the school all come together as a family to celebrate festivals. Our success lies in seeing our toddlers smiling. Events like these are an integral part of our academic calendar because they allow us to plan thematic extra-curricular activities around them, being educational while bringing joy!".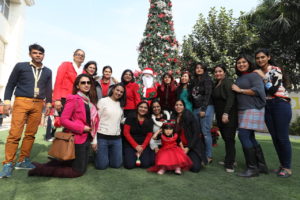 Dressed in the theme of red and white, both the parents and the children walked in ready to enjoy the joys of Christmas. Fun, games and carols the by Lorraine Music Academy were just some of the things planned for them. The entry of Santa with a bag full of gifts and goodies made the little ones jump with joy and break into their special rendition of 'Jingle bells'. Their faces beamed with happiness while Santa was wishing and giving surprise gifts to them. This was followed by a retelling of the story of the birth of Jesus. All the parents and the children danced around the beautiful Christmas tree to end the Carnival on the right note.