New Delhi: Swami Parmanand Prakritik Chikitsalya ( SPPC) completed it One year of helping people through there ayurvedic and naturopathic treatment, SPPC is a health and wellness center offering holistic and integrated solutions to the people through Naturopathy, Yoga, Ayurveda, Acupuncture and other natural therapies. SPPC awarded as a "Best Naturopathy Ayurvedic Hospital" in the 13th international Annual travel and hospitality awards.
SPPC gives unique therapies include temperature controlled herbal water jet baths, Colon Hydrotherapy and special cooling packs using herb and clay, in addition to all Ayurvedic therapies," says Dr. Divya Sharad Senior physician of SPPC.
As you step inside the Swami Parmanand Prakritik Chikitsalaya (SPPC) or (what they call Swami Parmanand Nature cure and Yoga centre) for a few days' stay, you are welcome with a reassuring smile of the healers- be it the reception staff or the doctors or the kitchen managers- who will make you feel comfortable with their warmth and cheerfulness by the most hygienic and serene environment.
SPPC is a 30 bedded hospital for the stay during the program and therapies. All rooms being full air-conditioned provide much comfort, moreover, the central premise is very spacious to walk through. People can choose types of rooms per their convenience. In addition, rooms do have amenities like Television, mini-refrigerators, hot water kettles, shower/bath amenities. There are three types of rooms available. Deluxe Rooms – 2 deluxe rooms with double occupancy is far more spacious and comfortable for patients. Standard Rooms – Standard rooms come with all comforts and supplies. General Rooms – General rooms come separately for both male and female and all air-conditioned with great hospitality.
About SPPC
Swami Parmanand Nature cure and Yoga center, inaugurated on 21st August 2016, is a guided Health and wellness center offering lifestyle programs through Complementary and Alternative healing principles of Naturopathy, Yoga, Ayurveda etc. People of all ages can visit the premises. The hospital not only welcomes sick patients but also welcomes healthier one for the betterment of their health. As the hospital is located in the heart of the city, it is easily accessible to have the treatments and therapies within effective costs. SPPC provides a number of therapies and treatments in Naturopathy, through Ayurvedic methods and Yoga sessions for problems like Thyroid, Diabetes, Back pain problems, etc. Cost-effectiveness and hygiene are the utmost priority of SPPC.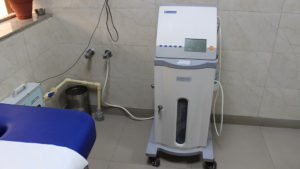 The main mission of SPPC Health Center is to provide treatments to the needy one, through natural medicine, yoga, Ayurveda, acupuncture and other means.
Specialization:
Nourishment
Detoxification
Rebalancing
CONCEPT
Naturopathy
Ayurveda
Yoga
Nutrition & Diet